The Carbon Underground 200TM
The World's Top Publicly-Listed Fossil Fuel Reserve Owners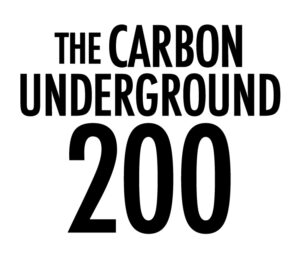 The Carbon Underground 200 identifies the top global publicly-owned coal, oil, and gas reserves owners ranked by the carbon emissions embedded in their reserves.
---
Scroll down to read the terms and request a copy of the Carbon Underground 200TM 
∇
Select individuals and organizations including institutional investors, not-for-profits, activist organizations and the media can request a lagged version of The Carbon Underground 200. This version is for reference and research purposes and can only be used for non-commercial purposes, as outlined in the Terms of Use below.
Asset managers and advisors can contact us for detailed information and subscription fees of The Carbon Underground 200. Email us at info@ffisolutions.com.
FOSSIL FREE INDEXES LICENSE AGREEMENT

PLEASE READ THIS LICENSE AGREEMENT ("LICENSE AGREEMENT") CAREFULLY BEFORE RECEIVING, OPENING,  DOWNLOADING, INSTALLING OR  OTHERWISE USING THE FILES (THE
"DATA") OR ANY RELATED DOCUMENTATION ("DOCUMENTATION"). NOTE: IF YOU DID NOT PROPERLY OBTAIN THIS DATA FROM FOSSIL FREE INDEXES OR AN AUTHORIZED AGENT OF FOSSIL FREE INDEXES, YOU ARE NOT AUTHORIZED TO USE THIS DATA AND MUST DESTROY THE FILES.
THE LICENSE AGREEMENT IS ENTERED INTO BY AND BETWEEN FOSSIL FREE INDEXES ("FFI") AND THE PERSON OR ENTITY AGREEING TO THE LICENSE AGREEMENT ("USER"). THIS LICENSE
AGREEMENT IS EFFECTIVE AS OF THE DATE YOU CLICK THE "ACCEPT" BUTTON BELOW (OR ANY SIMILAR BUTTON OR LINK AS MAY BE DESIGNATED BY FFI TO SHOW YOUR ACCEPTANCE OF THIS LICENSE  aGREEMENT) OR SIGN BELOW. IF YOU ARE ACCEPTING ON BEHALF OF YOUR
EMPLOYER OR ANOTHER ENTITY, YOU REPRESENT AND WARRANT THAT: (I) YOU HAVE FULL
LEGAL AUTHORITY TO BIND YOUR EMPLOYER, OR THE APPLICABLE ENTITY, TO THE LICENSE AGREEMENT; (II) YOU HAVE READ AND UNDERSTAND THIS LICENSE AGREEMENT; AND (III) YOU AGREE, ON BEHALF OF THE PARTY THAT YOU REPRESENT, TO THIS LICENSE AGREEMENT.
ACCEPTANCE OF THIS LICENSE AGREEMENT IS REQUIRED AS A CONDITION TO PROCEEDING WITH THE DOWNLOAD AND USE OF THE DATA. IF YOU DO NOT AGREE TO ALL OF THE TERMS AND CONDITIONS OF THE LICENSE AGREEMENT OR IF YOU DO NOT HAVE THE LEGAL AUTHORITY TO BIND YOUR EMPLOYER OR THE APPLICABLE ENTITY, CLICK THE "DO NOT
ACCEPT" BUTTON BELOW AND DO NOT DOWNLOAD OR USE THE DATA OR DOCUMENTATION. THIS LICENSE AGREEMENT GOVERNS USER'S USE OF THE DATA AND DOCUMENTATION.
1. License Grants
Subject to the terms and conditions of this License Agreement, FFI hereby grants the User a worldwide, royalty-free, non-assignable, non-transferable and non-exclusive license to use the Data solely for use as the basis for research and investment strategies related to assets you own in accordance and compliance with the terms of this License Agreement. Assets you own does not include investments over which you have discretion but no ownership. For example, a
consultant or outsourced CIO may have discretion, but they do not have ownership for the purpose of this license agreement. Any copy of the Data and Documentation provided to User under this License Agreement is licensed, not sold, to User by FFI. All rights relating to the Data and Documentation that are not expressly licensed in this License Agreement, whether now existing or which may hereafter come into existence are reserved for FFI. User shall not remove,
obscure, or alter any proprietary rights notices (including without limitation copyright and trademark notices), which may be affixed to or contained within the Data.
2. Restrictions
User hereby represents, warrants and covenants that, except as otherwise expressly permitted in this License Agreement, User will not and will not permit others to:
a. Resell, distribute, transfer, publicly display or publicly perform the Data or Documentation, or any copy thereof, by transfer, lease, loan or any other means, or make it available for use by others in any time-sharing, service bureau or similar arrangement;
b. Use the Data for any illegal purpose, in any manner that is inconsistent with the terms of this License Agreement, or to engage in any illegal activity;
c. Export the Data in violation of any applicable laws or regulations;
d. Modify, translate, adapt, or create derivative works from the Data or the Documentation related thereto; or
3. Term
This License Agreement is for one year from October 26, 2017. Upon written notice, this License Agreement is terminable at will by the User. FFI may terminate this License Agreement with or without notice if User materially breaches this License Agreement or takes any action in derogation of FFI or FFI's rights in or to the Data. Upon termination, the User shall return to FFI all copies of the Data and Documentation in the User's possession or control; all licenses and
rights to use the Data and Documentation shall terminate and the User must cease all use of the Data and completely remove from all hard drives and other storage media all copies of the Data
and Documentation in the User's possession or under the User's control. All provisions of Sections 6, 7 and 8 of the License Agreement shall survive termination.
4. Delivery
All Data will be delivered via email following approval of the signed agreement.
5. Fees
No fees are charged for this license. Any use of the data for commercial purposes or otherwise in violation of the terms will trigger fees that are current at the time for commercial use.
6. No Warranties; Disclaimers
EXCEPT AS EXPRESSLY SET FORTH IN THIS LICENSE AGREEMENT, THE DATA AND DOCUMENTATION WAS PROVIDED "AS IS" AND FFI MAKES NO WARRANTY AND DISCLAIMS ALL WARRANTIES, EXPRESS OR IMPLIED, INCLUDING WITHOUT LIMITATION ANY IMPLIED
WARRANTIES OF MERCHANTABILITY, FITNESS FOR A PARTICULAR PURPOSE, TITLE OR NONINFRINGEMENT OF THIRD PARTIES' INTELLECTUAL PROPERTY RIGHTS OR OTHER
PROPRIETARY RIGHTS.
7. Limitation of Liability
IN NO EVENT WILL FFI BE LIABLE FOR ANY LOST PROFITS, REVENUE OR DATA, OR OTHER INCIDENTAL, SPECIAL, PUNITIVE, EXEMPLARY, INDIRECT OR CONSEQUENTIAL DAMAGES, ARISING OUT OF OR RELATED TO THE DATA OR DOCUMENTATION OR THE USE THEREOF. IN NO EVENT SHALL FFI'S LIABILITY TO USER, WHETHER IN CONTRACT, TORT (INCLUDING NEGLIGENCE), OR OTHERWISE, EXCEED THE PRICE OF THE DATA PAID BY USER. THE FOREGOING LIMITATIONS OF LIABILITY SHALL APPLY, EVEN IF FFI HAS BEEN ADVISED, OR IS OTHERWISE AWARE, OF THE POSSIBILITY OF DAMAGES IN EXCESS OF SUCH LIMITATIONS AND EVEN IF THE WARRANTY REMEDY OF SECTION 6 FAILS OF ITS ESSENTIAL PURPOSE.
The User and FFI agree that the exclusion of Warranties and Disclaimers of Section 6 and the Limitation of Liability of this Section 7 are reasonable in light of the fees paid under the License
Agreement.
SOME STATES DO NOT ALLOW EXCLUSION OF IMPLIED WARRANTIES OR LIMITATION OF LIABILITY FOR INCIDENTAL, SPECIAL, PUNITIVE, OR OTHER INDIRECT OR CONSEQUENTIAL
DAMAGES, SO THE LIMITATIONS OR EXCLUSIONS OF SECTIONS 6 AND 7 OF THE LICENSE AGREEMENT MAY NOT APPLY TO THE USER. IN SUCH STATES, THE LIABILITY OF FFI SHALL BE LIMITED TO THE GREATEST EXTENT PERMITTED BY LAW.
8. Miscellaneous
a. If any term or condition of this License Agreement is deemed to be illegal or unenforceable under any rule of law, all other terms shall remain in force. Further, such provision will be reformed only to the extent necessary to make it enforceable and the term or condition
which is held to be illegal or unenforceable shall remain in effect as far as possible in accordance with the intention of the parties.
b. Nothing in this License Agreement shall be construed to place the parties hereto in an agency, employment, franchise, joint venture, or partnership relationship. Neither party will have the authority to obligate or bind the other in any manner, and nothing herein
contained shall give rise or is intended to give rise to any rights of any kind to any third parties. Neither party will represent to the contrary, either expressly, implicitly or otherwise.
c. All disputes, claims or controversies arising out of this License Agreement, or the negotiation, validity or performance of this License Agreement, or the transactions contemplated hereby shall be governed by and construed in accordance with the laws of the
Commonwealth of Massachusetts without regard to its rules of conflict of laws. Each of the parties hereto hereby irrevocably and unconditionally consents to submit to the sole and exclusive jurisdiction of the courts of the Commonwealth of Massachusetts and of the United States of America located in the Commonwealth of Massachusetts (the "Massachusetts Courts") for any litigation among the parties hereto arising out of or relating to this License Agreement, or the negotiation, validity or performance of this License
Agreement, waives any objection to the laying of venue of any such litigation in the Massachusetts Courts and agrees not to plead or claim in any Massachusetts Courts that such litigation brought therein has been brought in any inconvenient forum or that there are
indispensable parties to such litigation that are not subject to the jurisdiction of the Massachusetts Courts.
d. User may not assign this License Agreement without the prior written consent of FFI. Any purported assignment in contravention of this section is null and void. A transfer of a controlling interest in the equity of User shall be deemed an assignment for purposes of this
subsection. Subject to the foregoing, this License Agreement will bind and inure to the benefit of any successors or assigns.
e. User agrees that it will not knowingly, in conjunction with this License Agreement or its performance (i) export or re-export, from the United States directly or indirectly, any technical data (as defined by the U.S. Export Administration Regulations); or (ii) disclose
such technical data for use in, or export or re-export directly or indirectly, any direct product of such technical data, including software, to any destination to which such export or reexport is restricted or prohibited by U.S. or non-U.S. law, including but not limited to Cuba, Iran, Iraq, Libya, North Korea, Sudan, or Syria, or to any person on the Table of Denial Orders, the Entity List or the List of Specially Designated Nationals, without obtaining prior
authorization from the U.S. State Department, U.S. Department of Commerce and/or other competent government authorities to the extent required by those laws. User shall cooperate with FFI in the evaluation and securing of all necessary export authorizations and
licenses.
f. This License Agreement constitutes the entire agreement between the parties. It supersedes and replaces all prior or contemporaneous understandings or agreements, written or oral, regarding such subject matter, and prevails over any conflicting terms or conditions contained on printed forms submitted with purchase orders, sales
acknowledgments or quotations. This License Agreement may not be modified or waived, in whole or part, except in writing and signed by an officer or duly authorized representative of both parties. Failure or delay by either party to enforce any provision of this License
Agreement will not be deemed a waiver of future enforcement of that or any other provision.
*Click to download the License Agreement
The Carbon Underground 200TM
Genesis of a Fossil Free Standard
FFI Solutions began researching standards for developing fossil fuel free investment products when it was founded 2013.
As part of the "Unburnable Carbon" analysis published in 2011, the Carbon Tracker Initiative identified the original top 200 fossil fuel reserves owners. Adopting this top 200 list, 350.org kicked off a fossil fuel divestment campaign in November 2012.
FFI Solutions picked up where Carbon Tracker left off and launched The Carbon Underground 200 in 2014. The list transformed into an operational element of what is now a global campaign aimed at encouraging university endowments and foundations, pension funds, NGOs, and individual investors to divest from the top 200 public companies owning fossil fuel reserves.
The Carbon Underground 200 is the cornerstone of our activity at FFI Solutions. As the fossil fuel reserves ownership landscape continues to evolve, monitoring the top 200 companies is essential. FFI Solutions has created a systematic process for updating the ranking on an ongoing basis.
Today, The Carbon Underground 200 rankings are an essential screening tool for removing reserves-based CO2 emissions from investor portfolios and for offering carbon-responsible investment solutions. Our CU200 data services help automate processes for fulfilling exclusionary mandates and screening investment products.
FFI is uniquely positioned to help clients efficiently navigate the complexities of Net Zero. Our team brings together the hands-on experience in investing, carbon, climate change and consulting necessary to view challenges through multiple lenses and propose solutions that are both ambitious and pragmatic.
Our clients span a wide spectrum: investors seeking to manage climate change risks, asset managers planning to develop products, and investment service providers looking to offer climate related advice.
Our clients include investors seeking to manage climate change risks, asset managers planning to develop products, and investment service providers looking to offer climate-related advice.
We help asset owners seeking to implement climate-responsible investing strategies by providing screening and investment solutions that align with their objectives and constraints.
Investment Services Providers
Investment services providers help manage the relationship between asset owners and their asset managers. We help these organization create and deliver solutions that facilitate product management and reporting requirements.