Institutional investors and asset managers face complex challenges on how to best reach Net Zero.
Our range of portfolio decarbonization solutions provide the data, analytics, index design, and investment operations expertise to enable targeted implementation of fossil fuel free mandates, climate-aligned portfolios and sustainable purpose-driven strategies.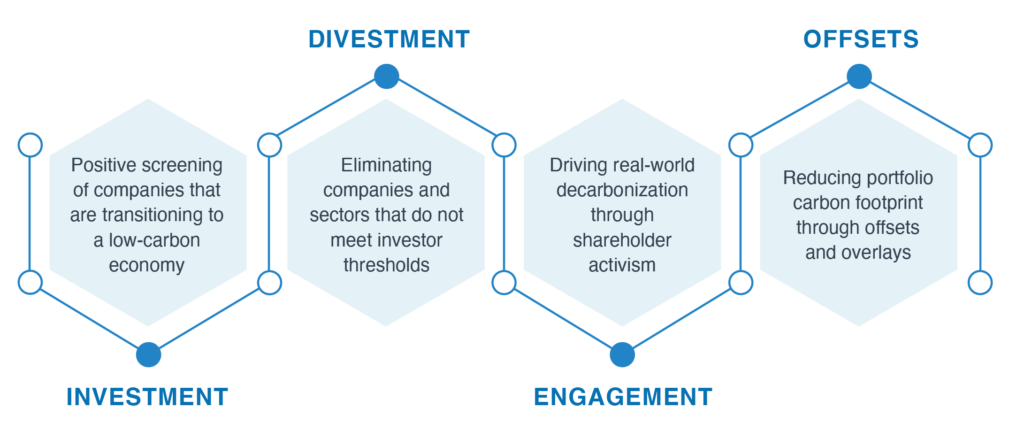 Turnkey Data & Screening Solutions
Whether you are tracking your fossil fuel exposure, engaging with boards or divesting your holdings, our data and screening solutions eliminate the operational headaches.
Delivered directly to investors, or their asset managers and custodians for automated processing, our standardized reference data files include detailed emissions and rankings, corporate action indicators, global cross-exchange equity issues and security identifiers.
Customize – Define universe of companies for exclusion / inclusion, research and set criteria / constraints within universe
Operationalize – Normalize and verify data, set frequency of updates, deliver trade and compliance files
Maintain – Tracking of M&A and corporate actions, ongoing quality assurance / cross checking
Support – Data and service notifications, file format and data delivery changes, methodology enhancements
Learn more about our research and data​
"Fossil Free" Fund Certification
Our certification services provide asset managers the ability to label and market funds that target sustainability, renewable energy, and other sector and specialty concentrations as "Carbon Underground Free".
The designation, defined by exclusion of fossil fuel reserves owners, can be demarked as either CU200-free or CU450-free. Customized certification services to fulfill specific investor mandates are also available.
Asset managers submit their fund holdings on a quarterly or annual basis. FFI Solutions performs an analysis of the fund holdings.
Once certified, the fund may promote and advertise the Carbon Underground Free label. This includes publication rights in the fund prospectus and use of FFI Solutions branding materials.
Carbon Footprint and Diagnostics
Portfolio diagnostics provide a clear view of your portfolios' carbon profile.  Our carbon footprinting and diagnostics provide a clear view of carbon exposures and risk.
Basic Diagnostics – Baseline analysis of holdings that overlap with The Carbon Underground 200 and broader fossil fuel reserves owners analysis and carbon footprint.
Enhanced Carbon Footprinting – Provide a holistic view of company emissions with an array of analytics and data to manage climate-related risks and opportunities.
Carbon Offset Program Design
Carbon offsets provide companies and investors with the tools to fund projects that reduce greenhouse gas (GHG) emissions. As these voluntary markets are unregulated, offsets raise legitimate questions regarding their effectiveness, verifiability, permanency, and additionality.
Our services are designed to help investors:
Understand the carbon offset markets and the pros and cons of using offsets at the portfolio level.
Develop a strategy for utilizing offsets as part of an overall portfolio decarbonization strategy.
Determine the differences between legitimate, effective offsets, and greenwashing.
Evaluate purchase options and help select the offset providers that will secure high-quality, verified offsets.
Strategy and Index Development
Our focus on solutions across the sustainable investing spectrum allows us to fast-track the research, design, and development of custom index products that help asset managers and investors meet the market demand for climate-aligned benchmarks and net zero products.
Collaborative Index Design – From seed idea to index production, we leverage our research, data, and technology to tailor sustainable index products. 
Net Zero and Sustainability Expertise – We apply our portfolio decarbonization expertise to incorporating exclusionary screens including The Carbon Underground 200, net zero goals, as well as critical concerns around socially responsible factors to deploy thematic indexes and proprietary short position investment strategies.
Download our whitepaper: Net Zero Blueprint for Institutional Investors