Our Net Zero advisory services help institutional investors design and implement climate-aligned strategies that incorporate their financial objectives, stakeholder perspectives and operating constraints.
The race to Net Zero by 2050 is on. Institutional investors are asking "how do we get there?" Many investors have the inclination to go directly to implementation and select one or a combination of primary approaches that have emerged: investment, divestment, shareholder engagement, and carbon offsets.
We leverage our investment expertise, research, and a proven consulting process to advise clients on pragmatic ways to align carbon and climate-related strategies with their specific beliefs, ambitions, and constraints.
Talk to us about your Net Zero journey.
Integrating Net Zero Across the Investment Process
Our Net Zero advisory services focus on four major components of the investment process:
Governance, in the context of net zero, involves defining beliefs and ambitions in a pragmatic way that can be integrated efficiently into an existing operating model. Building consensus among stakeholders and investment staff on the "why" is one of the most important aspects of governance that investors must address when starting their Net Zero journeys.
FFI Solutions helps investors to:
Define Net Zero
Benchmark against peers
Build consensus on values and beliefs
Incorporate stakeholder perspectives
Determine roles and responsibilities
A Net Zero strategy involves aligning an investor's unique beliefs, ambitions and operating constraints with emissions targets and a pragmatic implementation plan.
FFI Solutions provides investors with the tools and expertise to:
Establish a baseline portfolio carbon footprint
Set science-based emissions reduction targets
Select implementation approaches ranging from investment, negative screens, shareholder engagement and carbon offsets
For most asset owners, execution of their net zero strategy is facilitated through external investment managers.
FFI Solutions advises investors on updating their process for engaging with external managers and on introducing new processes including utilization of carbon offsets or hedges. We help asset owners, and their consultants, determine how to evaluate managers beyond performance outcomes and to understand how climate risk and opportunities are integrated into a manager's portfolio construction and security selection processes. Specifically, we help investors:
Amend manager due diligence questionnaires
Incorporate climate and carbon considerations into applicable manager research reports
Incorporate shareholder engagement considerations including those related to proxy voting and shareholder resolutions
Develop specialized mandates to source and select managers that specialize in strategies that align with net zero
It is essential to measure, track and communicate progress toward stated net zero goals with the same discipline used to monitor investment performance.
FFI provides advice and reporting services that allow investors to implement a process of monitoring progress against its emission reduction targets including:
Monitoring managers vs. Net Zero criteria
Ongoing portfolio carbon footprint measurement
Reporting to stakeholders on progress toward Net Zero targets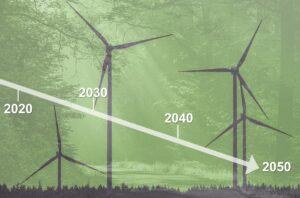 The race to Net Zero by 2050 is on, and participating institutional investors are asking "how do we get there?" Many investors have the inclination
Read More »